FINISHING PAGE 2
Here are a few pictures taken during finishing of my RV-6A.
Click on the thumbnails for larger pictures.


---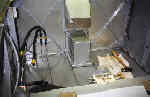 The brake lines in the 6A must run inside of the fuselage. The left line is relatively easy to plumb while the right line must go up and over the battery box. I have seen examples where the right line is run behind the battery box.
---
The left brake line exits the fuselage just aft and below the fuel pump. The line from the fuel pump is 3/8" and exits the fuselage through the firewall with a 90 deg. bulkhead fitting. From the firewall to the carb the line changes to Aeroquip 701 encased in fire sleeve.
---

Rudder and brake pedals are installed and the brake master cylinders are plumbed. Just aft and below the fuel pump the left brake line can be seen exiting to the outside world. The fuel tank vent line is just forward of the f-602.
---
The competed "yaw" control center. The black rectangles mounted on the F-605 subpanel are automotive style fuse blocks.
---

A home made bulkhead cable clamp fabricated from AN hardware. The cable shown here controls the door on the oil cooler.
---

I shortened my flap handle 2-3/8". This allows the handle to sit parallel with the upper longerons and floor.
---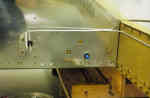 The 6A has a large gusset (F-658) on the inside to help carry the loads of the landing gear. The gusset is installed in such a way as to create a 1/8 inch gap between itself and the outside skin. I made the holes in the skin much larger than the hole through the gusset plate so that the bulkhead fitting and fuel pump mounting bolts are tightened down on the F-658 gusset only.
---
To help ease nut installation on the main gear mounts I installed some pricey platenuts.
---